NUOVA MERCEDES C SW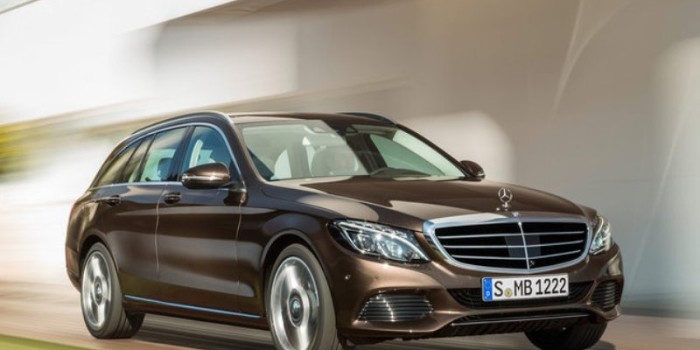 E' arrivata! A qualche mese dal lancio della berlina, la Mercedes ha cominciato l'attività commerciale per la Mercedes C SW, in versione station wagon. L'ufficializzazione è avvenuta con la diffusione dei prezzi del nuovo modello, che per la fase iniziale delle vendite consente di scegliere tra cinque motori, tre a benzina e due diesel. Il meno potente dei due propulsori a gasolio è abbinato sia al cambio manuale che a quello automatico. I due motori a benzina meno potenti sono invece disponibili solo con cambio manuale mentre quello più potente è solo con la trasmissione automatica.
I QUATTRO ALLESTIMENTI – La griglia delle sei versioni diverse per motore e trasmissione costituisce il punto di partenza del listino prezzi della nuova Mercedes Classe C S205. Perché oltre a scegliere che cosa si vuole avere sotto il cofano il cliente può e deve optare tra cinque livelli di allestimento, diversi per tipologia e ricchezza: Executive, Business, Sport, Exclusive e Premium. Con ognuno di essi si può poi arricchire e completare a piacimento la dotazione della vettura, che peraltro è già corposa fin dal suo livello base.
EQUIPAGGIAMENTO DI SERIE SU TUTTE LE VERSIONI – Nella loro configurazione base tutte le versioni presentano una dotazione molto articolata. Qui di seguito vi sono gli equipaggiamenti principali, ma altri ve ne sono: servo assistenza in funzione della velocità; I sedili anteriori regolabili elettricamente in altezza e inclinazione; volante regolabile in altezza e profondità; sistema stop&start; specchietti retrovisori regolabili elettricamente e riscaldabili; sedile posteriore con schienale frazionato 40/20/40 ad abbattimento elettrico; sistema di assistenza alla partenza in salita; airbag ginocchia conducente; sistema "Attention Assist" che controlla l'attenzione di chi è al volante, ne riconosce i segnali di stanchezza e se è il caso lo avvisa; sistema Collision Prevention Assist Plus che segnala al guidatore quando la distanza dal veicolo che precede o l'ostacolo fermo è inferiore al limite di sicurezza (il sistema in caso di rischio urto effettua una frenata parziale automatica); sistema ESP Curve Dynamic Assist che ottimizza il comportamento in curva; sistema di stabilità ESP abbinato a quello ASR che evita i pattinamenti in partenza; sistema Crosswind Assist che rileva la forza del vento laterale ed eventualmente corregge la traiettoria e interviene su acceleratore e freni; airbag laterali anteriori con barre di rinforzo nelle portiere; sistema di controllo della pressione pneumatici con sistema che avvisa in caso di calo; sistema di chiamata di emergenza automatica in caso di incidente. L'equipaggiamento di serie è la base di partenza, a cui si deve poi aggiungere quanto previsto dai diversi livelli di allestimento: Executive, Business, Sport, Exclusive e Premium.
Posted on 04 May
Fill out the fields to receive more information and to stay up to date with our promotions
Fields marked with * are mandatory.